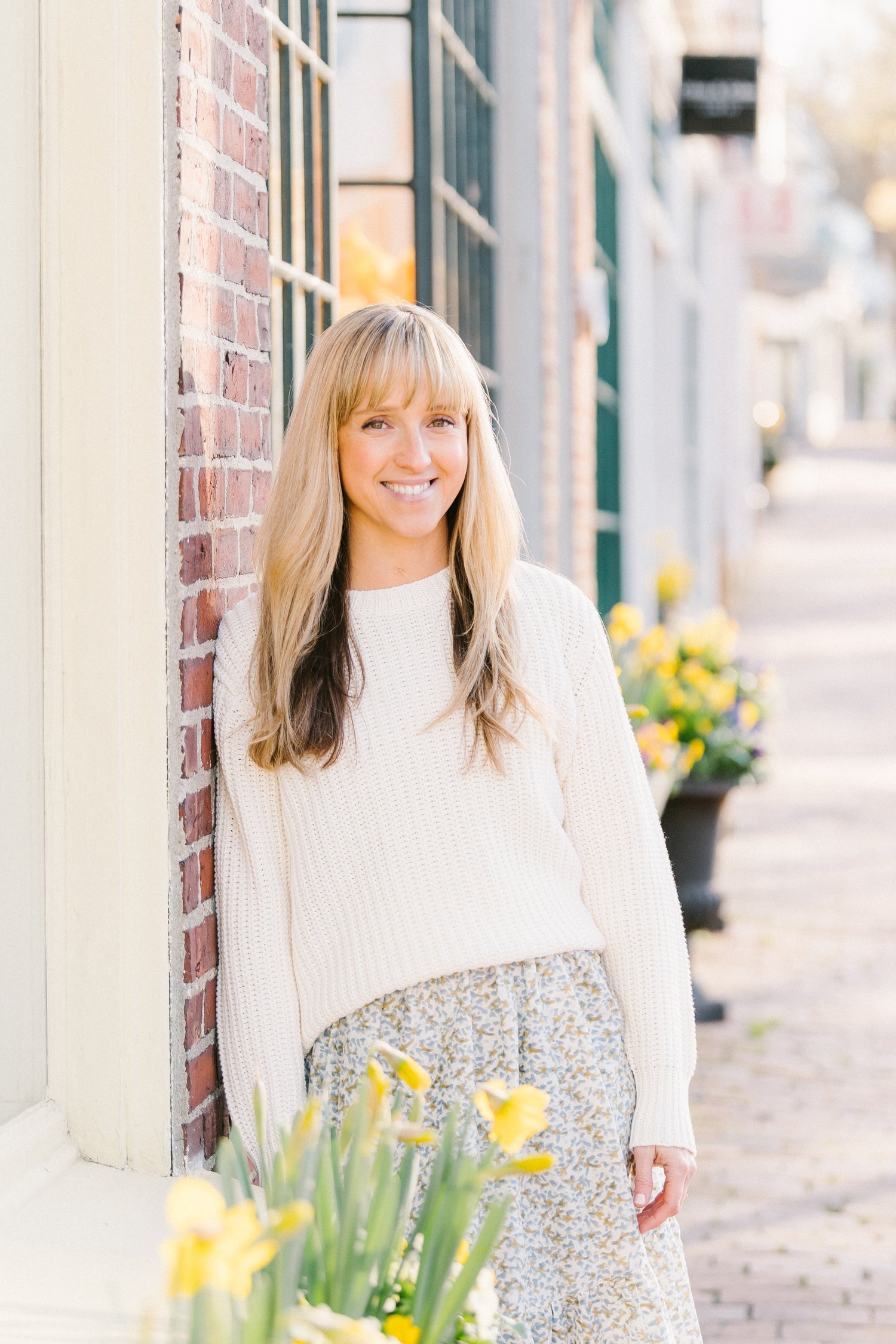 MEET CAITLIN
Growing up on Nantucket year-round, Caitlin developed an appreciation for the tradition and history of the island. Her father, Tim Parsons, has been making Nantucket Lightship Baskets and teaching classes for over 20 years.
From a young age, she saw him perfecting the craft of weaving, woodworking, carving ivory and scrimshaw. His talent always inspired me, but not until moving back to the island in 2013 did Caitlin discover the new trend of Nantucket Basket Bracelets. She's known how to weave for years so creating bracelets came naturally to me. From there, she earned to hand-carve the ivory end caps and scrimshaw.
Once Caitlin began experimenting with designs, she was hooked. She loves how the bracelets represent the Nantucket Basket tradition using the same materials and techniques while being innovative and modern. Caitlin is very proud to continue the Nantucket Basket-making tradition with her Nantucket Bracelets and hope you love them too!
THE BRACELETS

Each bracelet is hand woven by Caitlin on a brass cuff using the traditional Nantucket Lightship Basket material of rattan. Rattan is also used in wicker furniture and is known to be strong, pliable and durable. Some of the bracelets also feature woods such as walnut, cherry or ebony.

Each wooden stave is cut, sanded and individually shaped to the brass cuff. The end caps (and ivory pieces on the bangles) are also hand carved from larger tusks of fossilized walrus ivory and fossilized woolly mammoth ivory.


Fossilized walrus ivory and fossilized woolly mammoth ivory are excavated from Alaska and acquired ethically. The fossilized walrus ivory is anywhere from a few hundred years old to 10,000 years old, while the fossilized mammoth ivory is anywhere from 10,000 to 100,000 years old. Each piece of fossilized ivory is unique in color and pattern, which makes each bracelet one of a kind.

Custom scrimshaw, or engravings, can be done on woolly mammoth ivory or lighter pieces of the fossilized walrus ivory. Nantucket Bracelets are the only basket-style bracelet to be completely handmade by the artist (weaving, carving and scrimshaw) on Nantucket Island.

WATCH THE PROCESS
THE BASKETS

In 1659, when settlers first arrived to Nantucket, basket making was one of the many skills that that the friendly natives taught the new settlers. These early baskets were made with woods available at the time such as oak, hickory and ash. This style of weaving baskets is the origin of many styles of baskets still produced today.

Because of the success of the whaling industry in the 1830's, ships sailed further and further from the island as local whale numbers dwindled. When whalers travelled to the Pacific they brought back a material called rattan that natives of that region used to make baskets. Rattan, a species of palm, looks very similar to bamboo but is solid in the middle.

From this material, natives would cut the outer bark off in long strips and use this strong yet pliable material for many things including making baskets. The introduction of rattan to the weaving process helped to create the distinctive look of Nantucket baskets.

Lightships were stationed at Nantucket's south shoal to warn whaling vessels and other ships of the dangerous shoals. To pass the long hours of boredom on the ships, men would weave baskets while aboard, hence the name 'Lightship Baskets'.

Similarly, Lightship Basket scrimshaw started as etchings by sailors on a variety of materials they had aboard. More recently, scrimshaw has been a decorative addition to Lightship Baskets using ivory or bone.
FAQ
How do I know the bracelet will fit?

The cuff bracelets are woven on brass cuffs that are adjustable- just slightly squeeze or pull open to fit.
How long will it take to receive my bracelet?

Because of the handmade, custom nature of the bracelets, please allow up to two months for delivery.  Christmas orders must be placed on or before Thanksgiving to guarantee delivery for the holidays. Custom orders usually take longer.

Please contact us if you have a deadline and we will try to accommodate.
How do I place a custom order?

To place a custom order from images you've seen on our social media pages, or if you have a particular scrimshaw or design that you'd like please fill out this form. We love trying out new scrimshaw, weaving styles, or materials to make something that's completely one-of-a-kind!
Can I wear my bracelet in the shower/water?

No! Nantucket Bracelets are made from the same material as a Nantucket Basket, or wicker chair and should not be submerged in water. A few drops of water while caught in rain or while washing your hands will be fine (just dry off the bracelet), but anything more may weaken the material or cause discoloration.

Take your bracelet off before coming in contact with water, excessive sweat (don't wear to the gym or running!), or with perfume.
Can I return my bracelet?

If you don't love your Nantucket Bracelet, we are happy to exchange it or offer a store credit as long as it's returned in the same condition within 14 days. After it is determined that the bracelet is in the same condition, a store credit or exchange will be issued, return shipping will be the buyer's responsibility. Custom orders or orders with scrimshaw cannot be returned. We are not responsible for items lost in the mail.
If I buy my bracelet and it needs a small repair, how long do I have after I purchase?

Although it is rare for these fine crafted bracelets to need repairs, Nantucket Bracelets offers free repairs within the first 60 days of purchase, buyer is responsible for shipping. We are happy to repair older bracelets as well, after 60 days there will be a repair fee depending on the type of repair (small weaving fix vs. new piece of ivory).
Why are the end caps different?

As with anything in nature, no two pieces of fossilized ivory are exactly the same. Because of this, each bracelet end cap will have its own unique coloring and patterns. We pick each piece of ivory to coordinate with the one it's paired with.
Is the ivory Nantucket Bracelets uses ethical or even legal?

Nantucket Bracelets' approach is to use ethically and responsibly gathered materials. We use fossilized mammoth and walrus ivory, which is legal to buy and sell within the US. But, laws may vary state-to-state. Currently, we cannot ship to NY, NJ, CA or HI. Occassionally, we use antique ivory, which can only be shipped within Massachusetts.


You are responsible for knowing the local and state ivory law in your state. Nantucket Bracelets is not liable.